About Cetic.br
About Cetic.br
The Regional Center for Studies on the Development of the Information Society – Cetic.br – has consolidated its position as a reference center for the production of indicators and statistics on the use of information and communication technologies in Brazil. It publishes periodic specialized surveys and reports on the use of information and communications technologies – ICTs and the Internet by several segments of society. The results of these surveys are critical to monitor and assess the social and economical impact of ICTs and also to allow the comparison between the realities in Brazil and other countries.
Cetic.br has been concentrating its efforts on broadening the scope and improving the quality of the indicators and statistics produced annually in its surveys. These efforts are intended to ensure the reliability of the results, the production of higher quality information and, most importantly, a higher degree of international comparability. It has been accumulating significant experience in conducting national surveys on the use of ICTs in households and enterprises since 2005.
Cetic.br's surveys are based on international reference models, such as the methodological references and data collection instruments defined by the UN's Partnership on Measuring ICT for Development, Eurostat documents, OECD and UNCTAD.
Unesco Center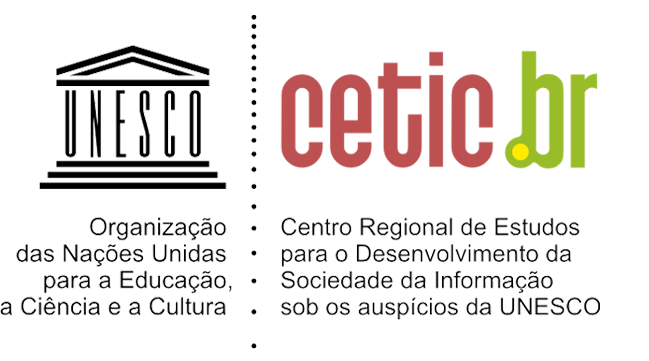 In 2012, the Brazilian government signed a pioneering agreement with the United Nations Educational, Scientific and Cultural Organization (UNESCO). Through that agreement, the Regional Centre of Studies for the Development of the Information Society was set up in Brazil under the auspices of UNESCO and hosted by NIC.br. It is UNESCO's first center of studies on the information society. Among the five sectoral areas covered by UNESCO, the Center is linked to the Information and Communication sector and it contributes to the institution's strategic objectives by strengthening its efforts to monitor the building of information and knowledge societies. Its regional work covers Latin America and Portuguese-speaking countries in Africa. The Centre's action lines comprise activities designed to contribute to a more informed debate on the importance of ICT measurement for public policy making and to the exchange of experiences among key actors engaged in investigating the intersection between society and technology topics and their implications for building a knowledge society. The work of the Center is focused on four action lines.
Capacity Building
Training and holding of informed discussions on the use of statistics in making and evaluating public policies and academic research primarily designed for public managers, researchers, and statisticians engaged in planning, implementing, and using ICT-related surveys.
Knowledge Center
Dissemination of information and knowledge, including survey methodologies, indicators, analysis, and thematic publications.
Laboratory of Ideas
Discussions, lectures, and discussion panel with experts to explore emerging issues related to the social impacts of ICTs.
Culture and Ethics on the Internet
Surveys on the intersection of topics related to culture, ethics, and the Internet.